Refugees Will No Longer Be Allowed to Resettle in Texas
Republican Texas Gov. Greg Abbott announced Friday that his state will not accept refugees in a letter obtained by the Daily Caller.
The Trump administration has given states the option to opt out of a refugee resettlement program, but Texas is the first state to announce they will not participate in the program. 18 Republican governors have already opted into the program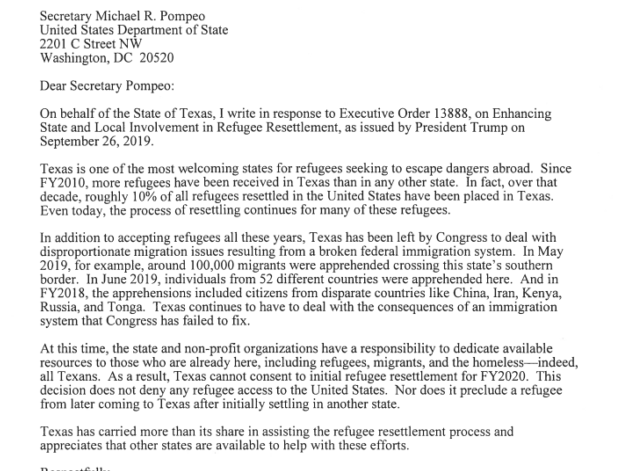 In a letter Friday to U.S. Secretary of State Michael Pompeo, Gov. Greg Abbott said the state will not allow refugees to resettle in Texas this fiscal year.
Under President Donald Trump's Sept. 26 executive order, cities and states must provide their written consent to allow refugees to resettle within their areas. Nationwide, over 40 governors have consented or signaled their willingness to allow refugees in their states, making Texas the first known state to bar their settlement.
Abbott's decision was quickly decried by refugee resettlement agencies, and it goes against the urging of Texas mayors, religious groups and state lawmakers who had pushed for Texas to continue permitting refugees.
Texas has long led the country as one of the states that resettles the largest number of refugees, a fact Abbott stresses in his letter, which was first reported Friday by The Daily Wire.
Political Power for European Americans!