Hate Hoax: Texan Tags Racial Slur on Own Home
A man who claimed to have been the victim of a racist hate crime actually hoaxed the incident, writing "n*gger lovers" on his garage door.
Both White, David Williams and his wife Jenny woke up on the morning of December 12 and found their garage door spray-painted with the racist message and their truck and motorcycle ablaze on their front lawn, according to the Daily Mail.
After Denton, Texas police opened an arson and hate crime investigation into the incident, Williams admitted to his wife that he had hoaxed the crime.
"David confessed to spray painting our garage door and starting the fire at our home," Jenny Williams wrote on her Facebook page.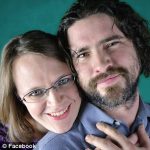 Before Williams confessed to doing the hate crime himself, a GoFund Me page was set up for the family, but now Jenny Williams has stopped the page and said all the donations will be returned.
Following the incident, Jenny Williams explained the hate crime in detail, saying "It just so happens that we aren't as racist as someone would like us to be."
Jenny Williams also said she and her husband's insurance would not cover the fire damage of their vehicles, asking residents to donate to help pay for her family's Christmas gifts.
"The kids won't be able to have anything under the Christmas tree due to this horrible act," wrote Jenny Williams. "Please if you find it in your heart please donate what you can to help this family of 6 out."
[Read: Hate crimes, social media, and the rise of the "hoax hoax"]
Jenny Williams told police that her husband, David, is currently in a mental hospital, but police said he would be arrested after being released.
Hate crime hoaxes have been on the rise since President-Elect Donald Trump's victory against Hillary Clinton, with most recently, a New York City Muslim woman hoaxing an attack by Trump supporters, as Breitbart Texas reported.
John Binder is a contributor for Breitbart Texas.