US Department of Justice Moves against Treasonous "Sanctuary Cities"
by TNO Staff | November 17, 2017
The US Department of Justice has sent a letter to 29 so-called "sanctuary jurisdictions"—that is, local authorities who actively aid the illegal Third World invasion of America—warning them that they are in violation of federal law and will have to repay all assistance grants paid to them by the Federal government in 2016—a figure of more than $16.7 million.
In addition, the treasonous pro-invasion authorities have been told that they will be barred from receiving funds in 2017.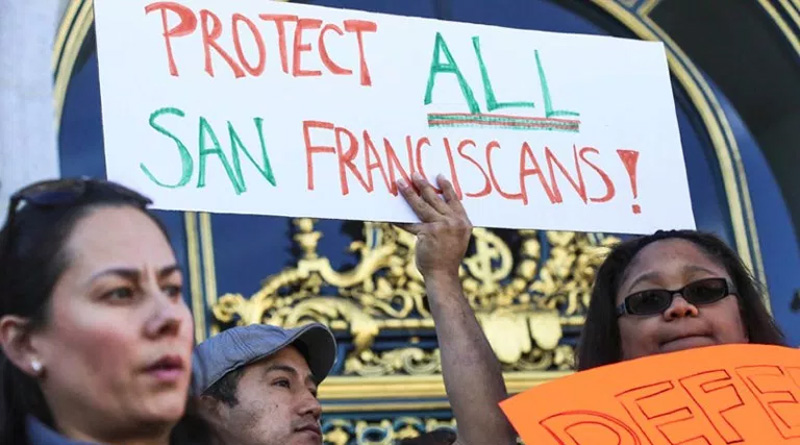 Under rules imposed in 2016 by previous Attorney General Loretta Lynch at the insistence of House appropriator John Culberson (R-Texas), all applicants for Byrne/Justice Assistance Grants program grants must attest that they are in compliance with all federal laws, especially including 8 USC 1373.
That law, passed in 1996, says that no state or local government can have a policy that in any way restricts communication or exchange of information about immigration status between local officials and federal immigration authorities.
According to a statement issued by the Center for Immigration Studies, Lynch's DOJ initiated an investigation into 10 sanctuaries that received $96.1 million from two DOJ funding programs in 2016. New Attorney General Jeff Sessions continued the process of notifying the jurisdictions, allowing them time to change their policies, and determining if they still qualify for the grants.
Four of the original 10 jurisdictions either changed their policies or were able to convince DOJ that they are not now sanctuaries (Miami-Dade County; Clark County, Nev.; state of Connecticut; Milwaukee County).
Five are now presumably facing a loss of funds (New York City; Chicago; Philadelphia; Cook County, Ill.; and Orleans Parish, La.). DOJ has not announced its decision on the state of California, which recently enacted a new state law that is even more egregiously restrictive in mandating non-cooperation than the law that DOJ was investigating, the CIS said.
Rather than change, several of the sanctuaries have filed lawsuits to try to force DOJ to back off. So far, three judges have ruled in favor of the sanctuaries, in northern California, Chicago, and, most recently, Philadelphia.
All of the judges found that, despite the sanctuaries' claims that DOJ was overstepping its authority and attempting to illegally coerce them to cooperate, it was permissible for DOJ to withhold funds based on illegal sanctuary policies.
Nevertheless, all of the judges found other reasons to block DOJ from actually doing it. For example, the Philadelphia judge decided that Philadelphia was not a sanctuary. As a result of the litigation, DOJ has had to delay disbursing all of the 2017 grants.
The following table lists the sanctuary jurisdictions that received warning letters and the amount of funding currently at risk.
Berkeley, Calif. : $37,509
City and County of San Francisco ,Calif. : $522,943
City of Los Angeles, Calif. : $1,870,503
County of Santa Clara, Calif. : $72,612
Contra Costa County, Calif. : $194,562
Fremont, Calif. : $21,872
Monterey County, Calif. : $17,607
Riverside County, Calif. : $54,551
Sacramento County, Calif. : $241,650
Santa Ana, Calif. : $99,109
Sonoma County, Calif. : $48,287
Watsonville City, Calif. : $20,115
City and County of Denver/Denver Police, Colo. : $426,590
Office of Victim Services and Justice Grants, D.C. : $1,476,400
City of West Palm Beach, Fla. : $61,115
Illinois Criminal Justice Information Authority, Ill. : $6,742,363
Louisville/Jefferson County Metro Government, Ky. : $598,104
Lawrence City ,Mass. : $71,811
Jackson City, Miss. : $260,499
City of Newark Police Dept, N.J. : $525,446
Middlesex County, N.J. : $17,862
Bernalillo County, N.M. : $63,236
Albany – Dept of Public Safety, N.Y.: $65,738
Multnomah County, Ore. : $173,088
Oregon Criminal Justice Commission, Ore. : $2,080,047
City of Burlington, Vt. : $39,945
City of Seattle, Wash. : $673,166
King County, Wash.: $203,065