Brooklyn Synagogue to Host "Antifa" Rock Concert and Fundraiser
By Eric Striker | Congregation Beth Jacob Ohev Shalom in Williamsburg, Brooklyn will be hosting one of the largest gatherings of "antifa" in New York City in recent memory this Saturday.
[
Congregation Beth Jacob Ohev Sholom (also known as "Congregation Beth Jacob Ohev Shalom") ("House of Jacob Lover of Peace") is an Orthodox synagogue located at 284 Rodney Street in Williamsburg, Brooklyn, New York. It is the oldest Orthodox congregation on Long Island (including Brooklyn and Queens), and one of the last remaining non-Hasidic Jewish institutions in Williamsburg.
]
The event is being headlined by "antifa" punk band (A) Truth, whose lead singer and drummer Christian Erazo also runs its sponsors "EastRev" (an anarchist punk record label) and "Brigada 71," a soccer hooligan gang affiliated with the New York Cosmos.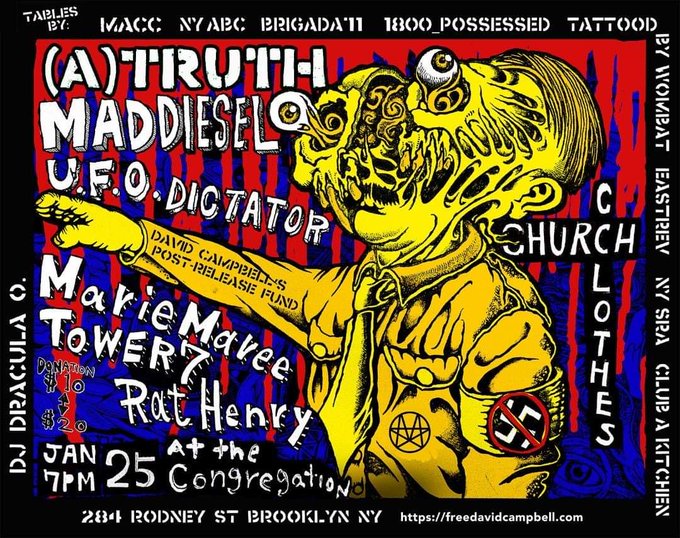 Organizations set to make official appearances include Marisa Holmes' Metropolitan Anarchist Coordinating Council (MACC) and "antifa" prisoner support group NY Anarchist Black Cross (NYABC), whose members are based out of Bushwick and Brighton Beach.
Interestingly, a New York chapter of the Socialist Rifle Association will also be recruiting. Draconian laws in NYC make it almost impossible to own any kind of firearm. The SRA is a communist militia group that gained notoriety after it emerged that the Dayton mass shooter, Connor Betts, was an active member.
The groups are coming together to raise money for left-wing extremist David Campbell, who was sentenced last October to 18 months in prison for a brutal unprovoked 2018 assault against a middle aged man attending a Trump-themed event in Manhattan.
The Jewish community in Brooklyn has been in the national headlines lately, claiming that their houses of worship are unsafe. Massive marches, escalating NYPD surveillance and large federal grants to Jewish institutions have been dispatched in response.
The decision of a Synagogue to invite soccer hooligans to host an "antifa" punk rock concert featuring bands with lyrics calling for terrorism and murder to raise money for a violent criminal makes their claims of feeling unsafe suspect, to say the least. None of the organizations involved are hiding what they're about.
Gentrification in Brooklyn has led to a massive uptick in anarchist paramilitary organizing in New York City, particularly in the neighborhoods of Bushwick, Williamsburg and Greenpoint. Members of the national media have close ties to these groups, such as Teen Vogue columnist Kim Kelly who is a member of MACC and likes to "report" on her own events, Right Wing Watch's Jared Holt who has been spotted in the past socializing with members of these crews, and Kelly Weill of the Daily Beast who is sympathetic to them and a minor celebrity in their circles.