'Bike Lock' Professor Arrested With Bail Set At $200K
By Harry Harris:
A former Diablo Valley College professor was in custody Wednesday evening after his arrest Wednesday afternoon in Oakland, according to county records.
Eric Clanton, 28, was being held on $200,000 bail after he was booked into Berkeley City Jail Wednesday evening. He was arrested on suspicion of use of a firearm during a felony with an enhancement clause and assault with a non-firearm deadly weapon.
Clanton faces a 9 a.m. Friday arraignment hearing at Oakland's Wiley W. Manuel courthouse.
A former Diablo Valley College staff directory Web page said Clanton, who earned a bachelor's degree at California State University, Bakersfield, and a master's degree at San Francisco State in philosophy, worked at the school since 2015, teaching an "introduction to philosophy with a background in teaching ethics, critical thinking, and comparative philosophy East/West" with "primary research interests" of ethics and politics.
Employee records for 2015 and 2016 listed Clanton as a lecturer with the California State University system and a philosophy instructor with the Contra Costa Community College District, according to Transparent California.
Berkeley police were not immediately available to confirm any connection between Clanton's arrest and social-media-fueled accusations within the last month about attacks during at least one of a series of protests earlier this year.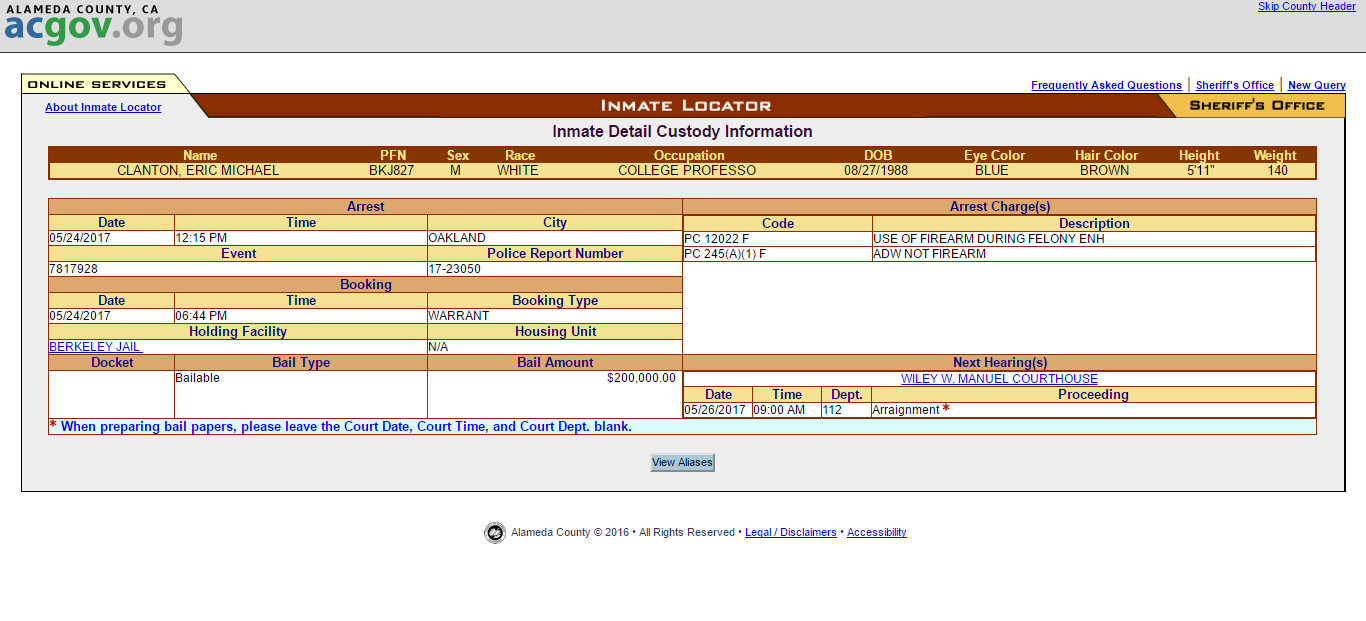 (Above) Eric Clanton Inmate Arrest Log – Click image to enlarge.