Walmart: Banned Confederate Flags, Now Selling Black Lives Matter Merchandise
Walmart is selling Black Lives Matter clothing and other items amid calls to designate the movement as a hate or terrorist effort. The retailer has banned sales of items bearing a Confederate flag, and an "All Lives Matter" bumper sticker saying it was "offensive." Some of the Black Lives Matter clothing items also have the word "Bulletproof" on them.
A search on the huge retail corporation's website shows a wide assortment of clothing and other items bearing the text "Black Lives Matter," and there is even a Black Lives Matter monthly pocket planner for sale.
The retail giant recently faced media controversy when three of its employees in Georgia refused to bake a peace officer a cake for his retirement. Breitbart News reported in late September that the police officer's daughter showed the bakers a design that said "Blue Lives Matter" with a blue line through the middle of the cake. Employees said it was racist. Her father was retiring after 25 years of service. A spokesman for the company later apologized for the incident.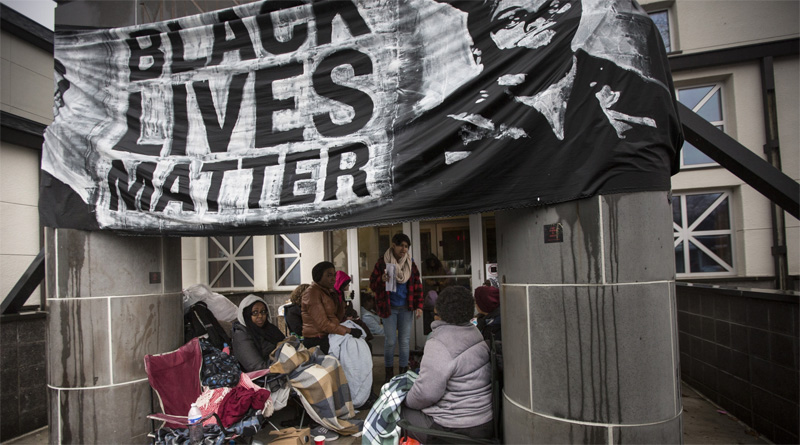 In June of 2015, Walmart had to apologize after one of its stores in Louisiana baked a cake decorated with an ISIS flag after it had refused to make one bearing a Confederate flag.
Walmart joined Amazon, Sears, Ebay and others and stopped selling products displaying a Confederate flag saying it did not want to offend any of its customers. As reported by Breitbart News and the Independent, the huge chain released a statement that said, "We never want to offend anyone with the products that we offer. We have taken steps to remove all items promoting the Confederate flag from our assortment — whether in our stores or on our web site." The move came after Dylann Roof murdered parishioners at the Emanuel African Methodist Episcopal Church in Charleston, South Carolina in June 2015. A manifesto believed to be Roof's revealed that he had intense racist, anti-American, anti-Semitic, and white supremacist views, as reported by Breitbart News.
Sheriff David Clarke, Reverend Jesse Lee Peterson, Fox News Channel host Bill O'Reilly, and talk radio host Rush Limbaugh, have called the Black Lives Matter movement: a "hate" group, a "terrorist group," and/or "a terrorist group committing hate crimes."
Sheriff Clarke said Black Lives Matter is a "separatist movement" and the Southern Poverty Law Center should add them to their list of hate groups. Fox News Channel's "Fox & Friends" co-host Elizabeth Hasselbeck asked why the group had not been so designated right after Harris County Deputy Darren Goforth was executed in Houston in August 2015.
Deputy Goforth was shot 15 times approximately six weeks after PVAMU graduate Sandra Bland committed suicide in the Waller County Jail near Houston. His murder also followed several protests in Waller County where Black Lives Matter activists and members of the New Black Panther Party called for the killing of whites and white police officers. Members of the armed New Black Panther Party stood across from a line of Harris County Sheriff Mounted Patrol deputies at the jail and chanted "We will start creeping up on you in the darkness." They also yelled "Off the pigs," and "Oink oink, bang bang."
Micah Xavier Johnson, the Nation of Islam sympathizer and former Houston New Black Panther member who gunned down 11 police officers in Dallas in July said he wanted to kill cops, especially white cops, as reported by Breitbart Texas. Johnson started shooting at the close of a Black Lives Matter protest. A BLM activist thanked the cop killer on Twitter. Bill O'Reilly called Johnson "a hater and a terrorist."
Breitbart News reported that Black Lives Matter activists tried to disrupt the Minnesota State Fair and marched chanting: "Pigs in a blanket, fry 'em like bacon!" Black Lives Matter activists pay homage to cop killer Assata Shakur at every event. The phrase "pigs in a blanket" refers to police officers in body bags and is a call for the killing of police officers.
Rev. Peterson said, describing Black Lives Matter, "they're no different than the skinheads or the KKK." He said, "If Black Lives Matter was a white radical group, doing exactly what these black people are doing, they would be shut down. America would not allow that to happen."
Breitbart News reported in July that there was a petition drive to officially designate Black Lives Matter as a terrorist organization. Over 141,000 signed the petition. The White House rejected the petition.
Milo called Black Lives Matter "the last socially acceptable hate group." In September he told those gathered to hear him at the University of Houston, "We are entering the black power phase of Black Lives Matter existence and it is crossing over into a terrorist organisation. It's time to criminalize it."
Black Lives Matter supporters celebrated after the murder of three Baton Rouge police officers in July, and used a Twitter hashtag #FuckParis after Islamic terrorists killed scores of people at a concert in Paris, France in November 2015.
President Obama has refused to denounce the group and has thanked Black Lives Matter activists for their "outstanding work." President Obama's senior adviser Valerie Jarrett met with Black Lives Matter activists on September 16, 2015 at the White House, as reported by Breitbart News.
Donald Trump, now president-elect, said in early September 2015 that BLM activists were "trouble" and added, "I think it's disgraceful the way they're being catered to by the Democrats." He was on the "O'Reilly Factor" when he made these comments. He also said, "I saw them with hate."
The rhetoric of those in BLM is now getting push-back in the court system.
Breitbart Texas reported in mid-September that the leader of a Dallas police organization sued a collection of Black Lives Matter figureheads and other prominent individuals for allegedly inciting racial violence against American police officers. Apart from founding members and public faces related to Black Lives Matter, Louis Farrakhan and the Nation of Islam; Rev. Al Sharpton and the National Action Network; Malik Zulu Shabazz and the New Black Panthers; George Soros; President Barack Obama; former U.S. Attorney General Eric Holder; and Democrat presidential nominee Hillary Clinton were all named as defendants in the lawsuit.
The father of one of the officers executed in Dallas in July filed a lawsuit in November against Black Lives Matter, Rev. Al Sharpton, Nation of Islam leader Louis Farrakhan, and others charging that they inflamed and inspired a "War on Police." Similar to the Dallas police organization, the father of 32-year-old Dallas Police Officer Patrick Zamarripa, Enrigue Zamarripa, sued: Rev. Al Sharpton's National Action Network; Black Lives Matter organizers Rashad Turner, Opal Tometi, Patrisse Cullors, Alicia Garza, Deray McKesson, Johnetta Elzie; Malik Zulu Shabazz, leader of the New Black Panthers Party; and George Soros, a huge financial supporter of Black Lives Matter.
Lana Shadwick is a writer and legal analyst for Breitbart Texas. She has served as a prosecutor and associate judge in Texas. Follow her on Twitter @LanaShadwick2.