Obama Pardons Domestic Terrorist
Obama pardons another turkey. Barack Obama, eager to reestablish his reputation as a radical liberal, made some shocking announcements.
Yesterday, he commuted the sentence of transgender Army private Chelsea Manning, reportedly against the advice of the intelligence community, including some of his top advisors. AAN spoke with several national security experts who were appalled at this move.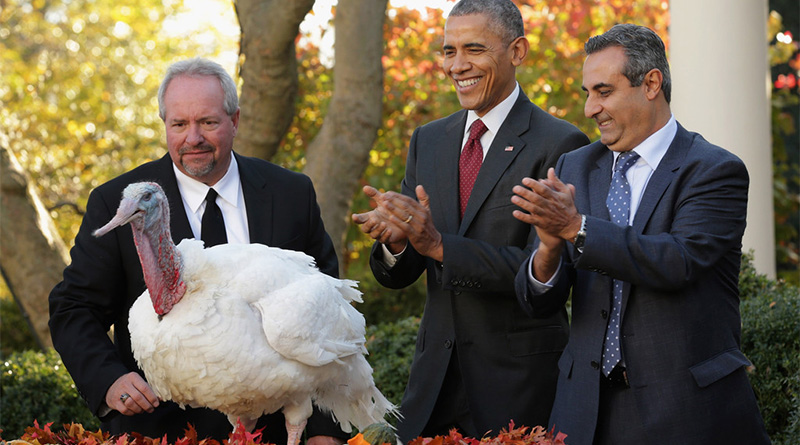 But it gets worse. While everyone was yelling about the Manning commutation, Obama pardoned Oscar Lopez Rivera. Who is Lopez Rivera? As National Review's Ronald Kolb noted, he's an unrepentant terrorist and murderer:
Lopez-Rivera has been in federal prison since 1981, after he was convicted of seditious conspiracy and arms trafficking in connection with his leadership of the FALN, the notorious left-wing terrorist group that perpetrated more than 130 attacks on U.S. soil from the mid 1970s through the mid 1980s, killing six and wounding many more. Most members of the FALN, which purported to fight for Puerto Rican independence but maintained deep ties to Fidel Castro's Cuba, were long ago captured and imprisoned, and many of them have already served their time and been released. But Lopez-Rivera remains unrepentant about his crimes, and he's hardly been a model prisoner: In one of two failed attempts to escape, he conspired with others inside and outside his prison to kill his way to freedom, attempting to procure grenades, rifles, plastic explosives, bulletproof vests, blasting caps, and armor-piercing bullets. After the FBI thwarted this plan, another 15 years was added to Lopez's original 55-year sentence.
Then, in 1999, President Bill Clinton stunned the world by offering clemency to twelve FALN members, including Lopez, without notifying the families of the FALN's victims beforehand. Eric Holder, at the time a deputy attorney general in Clinton's Justice Department, had been trying to free the imprisoned radicals for two years. When then-first lady Hillary Clinton's staff thought freeing the terrorists might help her pick up the significant Puerto Rican voting bloc in her N.Y. Senate race, they reached out to Holder for an assist. Holder came up with a statement the terrorists would have to sign expressing remorse for their actions, Mrs. Clinton met with an advocate for the group who passed along documents to assist with the clemency, she gave the documents to her husband, and just two days later President Clinton made the surprise announcement.
The plan quickly began to implode when both branches of Congress overwhelmingly condemned it and the administration failed to get all twelve terrorists to agree to its conditions. As a 30-day deadline to accept the offer approached, eleven of the twelve prisoners signed on, walking free as a stunned nation watched. Lopez-Rivera was the only prisoner to decline the administration's offer.
The deadliest attack the FALN carried out was in January 1975, when four were killed and 60 injured at the Fraunces Tavern in New York City's financial district. According to the New York Daily News' report on the bombing, members of the FALN called the Associated Press after the bombing to take responsibility.
Listen to what the pro-terrorism asshole, Rep. Luis Gutiérrez said about his "friend":
According to a UPA report on Lopez Rivera's sentencing in August 1981, Lopez Rivera did admit to committing what he was charged with. However, he told the judge that he was a political prisoner and didn't take part in much of the trial. The judge called him an "incorrigible law violator."
By 2010, however, he decided he had served long enough, and petitioned for release with the U.S. Parole Commission. In a January 2011 hearing at the U.S. penitentiary in Terre Haute, Ind., the families of FALN victims showed up seeking any sign that Lopez-Rivera was sorry for his group's actions, but none was forthcoming. The parole examiner ruled that Lopez-Rivera would remain in prison until at least 2023. The full commission, which was made up entirely of Democratic presidential appointees, upheld the examiner's decision the following month, ruling that Lopez-Rivera had boasted of his leadership role before the failed escape attempt from Leavenworth federal prison.
This is not surprising. Liberals got upset when conservatives brought up Obama's cozy relationship with domestic terrorist Bill Ayers, but it's not so funny now. Lopez Rivera is an unrepentant terrorist. His bombs killed and injured many people, including three NYPD officers. He plotted the murder of prison guards. This man is a hero only if you view violence against innocent civilians as a noble political endeavor. Obama and his allies are pretending he's Ghandi.
There's a pattern here, as Sean Davis of the Federalist so brilliantly points out:
If you hate America and seek to weaken or damage it, you will always find an ally in progressives like Barack Obama.
— Sean Davis (@seanmdav) January 17, 2017