London Murder Rate Overtakes New York for First Time Ever
London has overtaken New York City's murder rate for the first time in contemporary history as the capital has been overwhelmed with a spate of stabbings.
While London remains substantially the safer city overall, with less than half the homicides of New York last year, according to a new report a recent spike in knife cirme meant February was the first month the UK capital was home to more murders than the US city.
London has endured a significant increase in knife crime, with 15 dying in February, nine of whom were aged 30 or younger. Meanwhile 14 were killed in the Big Apple.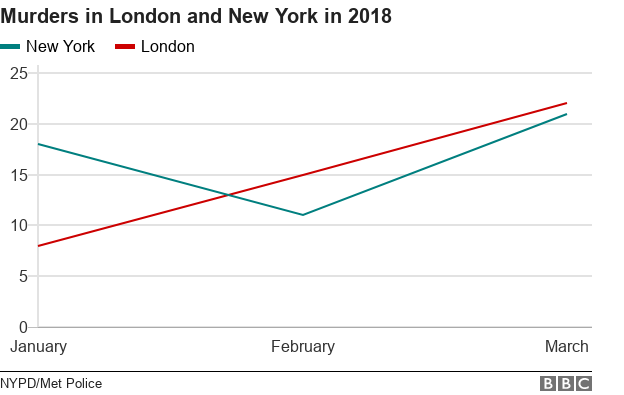 London also suffered 22 fatal stabbings and shootings in March, higher than the 21 which took place in New York, according to the report in the Sunday Times.
Both cities have populations of similar sizes which are around 8.5 million people. While New York City's murder rate has gone down – decreasing by around 87 per cent since the 1990s – the Big Smoke's has simultaneously surged. London's has increased by nearly 40 per cent in the space of three years alone – not including deaths caused by terrorist attacks.
A murder probe was launched on Saturday after a 36-year-old woman was killed in what is thought to be the 30th incident of fatal knife crime in London this year.
The death came just hours after a 23-year-old man was fatally stabbed in the neck in Plumstead, south-east London on Thursday evening.
Fatal stabbings in England and Wales are now at their highest levels since 2011 – growing by 12 per cent in the year ending December 2017.
Cressida Dick, commissioner of the Metropolitan police, has said social media is in part to blame for the rise in knife violence.
The report comes days after it was revealed fatal stabbings are taking place every three days in London amid concerns of a resurgence of "postcode wars" between battling gangs.
The closing gap of the murder rate between New York and London has been partially attributed to the differences in tactics adopted by the two police forces.
"London remains one of the safest cities in the world," a spokesperson for the Metropolitan Police told The Independent. "The Met is concerned at the increase in murders in London, and specialist detectives from the Met's Homicide and Major Crime Command are investigating.
"One murder is one to many, and we are working hard with our partners to understand the increase and what we can all do to prevent these tragedies from happening in the first place."