Leftists Furious Over 'Far Right' And 'Homophobic' Straight Pride Posters
The Irish city of Waterford has been covered with posters celebrating "Straight Pride," which have been labelled "homophobic" by the media and leftists.
Around 70 of the Straight Pride posters were put up around the city on the south-east coast of Ireland. Featuring a picture of a married couple, the posters declare that Straight Pride is "natural… has worked for thousands of years, and you can make babies" by being part of a straight couple, and were printed on A4 size paper, around the size of US standard letter paper.
Homophobic hate on show in Waterford City again tonight – covered the place in 'straight pride' posters. This follows the burning of a Pride flag and the cutting down of the replacement Pride flag in just over a week. #Pride pic.twitter.com/OMQdQBhhn0

— Michelle Byrne (@Michelle_Byrne_) June 16, 2021
Unsurprisingly, leftists and media commentators were quick to brand the posters, which did not express hate in any way, shape, or form, as homophobic. Michelle Byrne, a union activist who posted an image of the posters on Twitter, said that it showed that "far right ideas have been growing throughout the pandemic as they prey on peoples fears, looking for groups to scapegoat, blame or hate," and that Waterford "needs to come together and rise above the hate."
Debbie O'Rourke of the Pride of the Deise Group argued to Extra.ie that Straight Pride is "not a thing," and was just being used to target the LGBT community. "It's similar to the messaging we saw and was used against us in the marriage equality campaign that focuses on family and on babies," she said. "There's just a preoccupation with the sex that queer people have, it always comes up. We don't have the same fascination with straight people's sex lives."
O'Rourke added that it was "scary" that some straight people could be proud of their sexuality "We have to be wary, but it's about not letting that fear win," she said. "That's really important. For young people, they have much more fear than adults around coming out and things like that." She confirmed that most of the posters were quickly removed by those who opposed the message, and that they had been reported to the police.
Despite O'Rourke denying the existence of Straight Pride, the first Straight Pride parade occurred in Boston on August 2019, with a large turnout of conservatives and protested by antifa activists and leftists, who handed out flyers indicating that all straight sex is rape, and those who engage in sex with a white male are perpetuating white supremacy, a far more aggressive and bigoted message than the posters displayed in Waterford.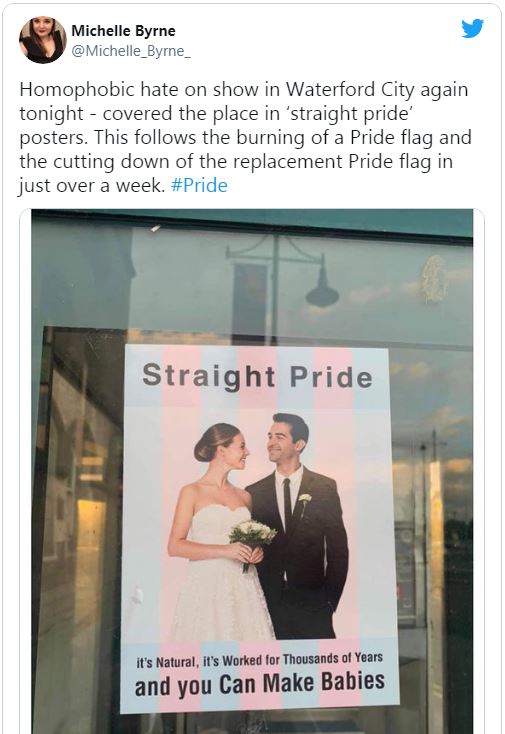 Source:  Jack Hadfield is a conservative and patriot from the UK
---
How can you become a member or donate? Send a check or money-order for $30.00 (made out to: "Council of Conservative Citizens") to the P.O. Box listed below:
Subscribe:
CofCC
P.O. Box 267
Potosi, MO 63664-0267